Packly has a new creation interface for building boxes and packages. Customization is always possible, but you get straight to the outcome.
The African temperatures did not stop our technicians, who launched a new creation interface on Packly. As we keep repeating, user feedback is our greatest asset. In recent exchanges on social media and at Cosmoprof, you have overflown us with compliments and given us ideas for improvement.
From "à la carte" ordering to ready-made menus
Those familiar with us will know that we are greedy food fans. We will illustrate the innovations introduced with a metaphor relating to the world of restaurants. In the classic Packly interface, the customer would look at the menu, ordering one dish at a time and adding toppings or variations until the final stage. You liked this; apparently, it worked but required a high interaction rate.
We then asked ourselves how to improve and got to the tasting menus. What do we mean? Let's say the customer only needs to choose the dish. By clicking, they already see a tentative price based on pre-filled sizes, material, and quantity. All these specifications are always customizable based on your needs.
The new creation interface: everything is on the same page
Every step is on the same page, following a guided journey that will lead the customer to the final purchase.
Beware, though, we are not trying to say that the new creative interface limits your customization possibilities; far from it. You can always intervene by making all the necessary corrections, additions, and special finishing applications.
You can choose the standard or urgent manufacturing time and quantities as before and even more than before. While calculating the quote, you always have the specification you entered visible in one flow, without going back and forth from tab to tab.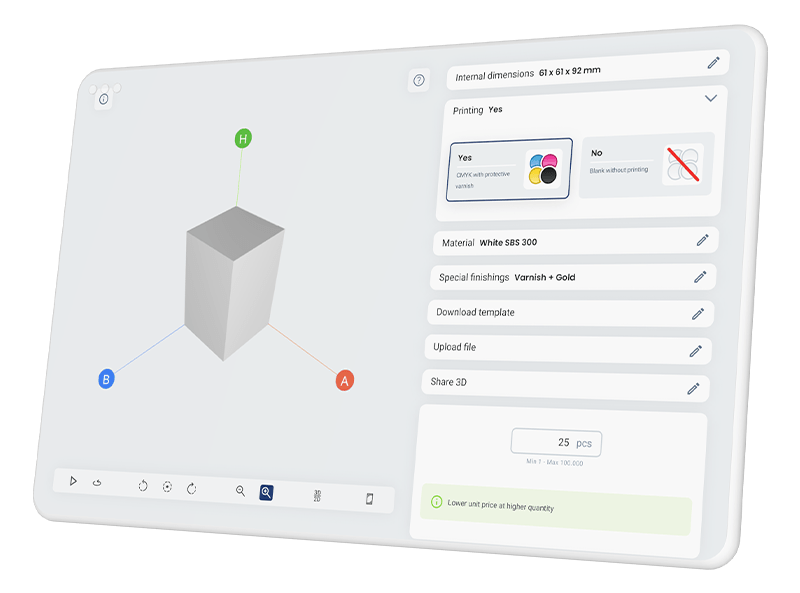 Upload your project and share it in a blink of an eye
The section for downloading the die-cut template, uploading, and sharing the file follows the flow while creating the box, and it's on the same page.
The file-sharing section expands and comprehensively contains all the features available for each subscription plan. The user walks through the sharing process and immediately sees how to subscribe or change the plan, should they wish to take advantage of the more advanced features such as theme customization or alternative domains.
What about the price? Test Packly on large print runs, too!
The quote? Just enter the quantity in real-time. Here is the best possible price with some valuable suggestions: unit price lowers for higher amounts. Did you know that on Packly, you can order from 1 up to 100.000 copies? Have you ever tested us on high print runs? Try calculating a quote on large quantities; you may get a surprise!
Conclusions on the new creative interface
Is your packaging design project entering the operational phase? Try Packly's new creative interface now and keep sharing feedback and results with us!