Packaging Première & PCD Milan 2023 came to an end less than a week ago. But it is already an edition to remember! Want to know how it went?
Packaging Première & PCD Milan was a meeting and discussion point for the luxury packaging industry, offering new opportunities for growth and inspiration to all participants. The exhibition dedicated to new trends in luxury packaging has come to an end. But what can we learn from this experience? Let's sum up.
7850 registered visitors, representing the audience in attendance. Over 300 exhibitors from all over the world (from Italy to China) and Packly was proud to be one of them.
The 18 conferences held during the event provided an opportunity to explore and delve deeper into a variety of topics, including:

artificial intelligence (AI)
the metaverse
sustainability in the cosmetics sector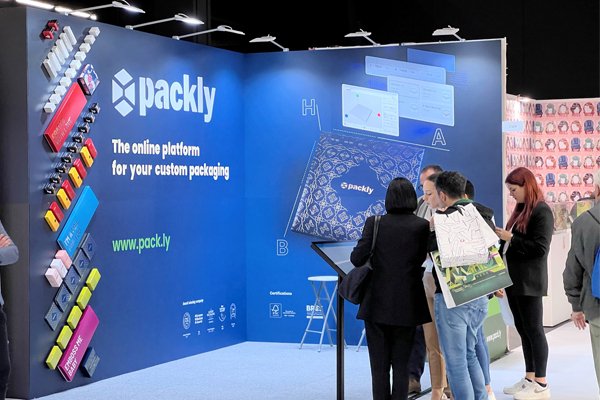 Valuable knowledge and perspectives on the latest innovations and trends in the industry were provided at these meetings.
Packly's results
What results did Packly bring home? First of all, direct contact with the designers, agencies and brand owners who visited our stand. The enthusiasm and interest that Packly generated confirmed that the platform meets a common need: to simplify the process of creating customized packaging.
Packaging Première & PCD provided this great opportunity: getting immediate feedback from visitors, potential customers or industry experts is extremely valuable for us to improve our products and services.
It couldn't be any other way. After all, innovation and sustainability are key issues in the world of cosmetics and luxury goods packaging!
About Packly, visitors appreciated the focus on sustainability and the user-friendliness of the platform. As well as the clear and immediate communication, which was also made visible thanks to an interactive screen on the stand. The practical demonstration of the creation process made it possible to 'touch and feel' the quality and professionalism that we offer our customers every day. Visitors were also surprised by the incredible realism of the interactive 3D preview of the printed product.
For us, this kind of interaction at exhibitions can be a source of inspiration and motivation. Listening to the needs of those who need packaging is an incentive to set new goals and think more broadly.
Conclusion
In conclusion, Packaging Première & PCD 2023 has brought us great satisfaction and new opportunities. These results will allow us to keep up to date with the latest trends and innovations in order to offer quality products.
But the Packly tour does not end here! If you want to discover our world and all the innovations we have in store, don't miss the next stage of our journey! We look forward to sharing our news with you. While you wait for updates on the next steps, take a look at our platform.