Who is hiding in our control room? Interview with the CEO: Giuseppe Prioriello. Everything you ever wanted to know about Packly's general manager, but never dared to ask.
Today we'd like to interest you in an interview with Packly's CEO: Giuseppe Prioriello. Firmly holding the fort since the beginning of the project, he is a multi-faceted but down to earth leader. Lover of music, family and good food, he has a soft spot for technology.
Giuseppe, can you tell us something about yourself that few people know?
Well, to be honest I love dance music, just like in the new hit song from Sanremo. I have a background as a DJ and basically I take the same approach to the business as I had at the console. I mix rhythms, numbers and harmonies to obtain an innovative and inimitable product, in typical Packly style.
What is something you were told that stuck with you?
More than 20 years ago they told me: "don't be afraid to give away". It means it's not worth keeping everything to yourself. The real strength lies in sharing what you own without ever sparing yourself. A modern version of "no man is an island", if you like.
Failure is a necessary stage of success. What were the most formative mistakes you made?
The worst mistake that can be made in undertaking a project is to seek perfection at all costs. It is wiser to create a so-called MVP that is a minimum viable product, and then weigh it against the real needs of end users, gauging it with the market for it to be altered and perfected time after time. If in pursuing a goal you lose focus and momentum, you risk throwing everything away.
If you hadn't been passionate about graphics and packaging, what else would you have done?
I'm an electronics and computer geek and probably if I hadn't mixed it with packaging, I would have channeled this innate passion into another high-tech project.
Can you describe a typical day of yours?
First thing in the morning I have breakfast. No day can start without it. Then I write down a short to-do-list with the tasks to be completed by dinner time. Once I get to the office I have a coffee with the team, we chat, we laugh, we talk and then we throw ourselves headlong into another stint of our challenge towards the revolution of packaging design.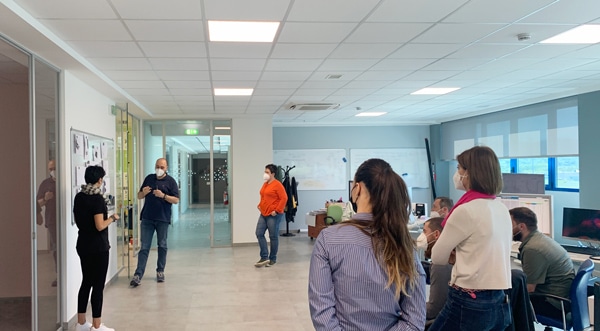 How important is intuition compared to numbers in your decision making?
For me, intuition is key and inspires all my actions at first. Then, in hindsight, I use the numbers to validate my decisions, calibrate them in order to approach my objectives in a consistent and steady way.
What are 3 things you would never do without?
In the first place, however trivial it may sound, I put my family. Secondly, work intended as mental activity, challenge and commitment. Last, but not least, comes the queen of Italian taste: pizza.
Do you have a favorite quote and if so what is it?
"Simplicity is the ultimate sophistication". The genius of Leonardo da Vinci teaches us how to make things usable, you need study, commitment and an out-of-the-ordinary ingenuity.
What kind of people do you surround yourself with and what do you look for in your employees?
I like those who share clear values. I could never work with talented and super-competent people, but who are totally lacking in humility or moral stature.
For Italians food is life and Molise is top notch. What's your favorite dish?
Well, I already pulled the pizza card, so without hesitation: cavatelli with meat sauce.
Interview with the CEO: conclusions
We hope you enjoyed our interview with the CEO. We might say Giuseppe has something from Dargen D'Amico, a little inspiration from Leonardo da Vinci and a pinch of heart by Antonino Cannavacciuolo. Also, check out our tool for creating custom boxes and if you have any feedback, please share it with the CEO and the team!