The world of luxury packaging is in constant evolution, and Luxe Pack Monaco serves as the stage to showcase the latest trends and challenges in this ever-changing sector. This 35th edition has witnessed extraordinary participation.
– 450 exhibitors from around the world;
– 10,420 visitors from 120 different countries;
– 35 conferences and roundtable discussions to explore market trends and challenges in the carton industry.
Packly is rewriting the rules of packaging with a platform that captivates visitors.
These numbers reflect the significance of Luxe Pack Monaco as a reference point for industry professionals. Among the stands that have exceptionally caught the eye, ours is certainly one! Packly has highlighted its innovative spirit, demonstrating itself as a strategic and intriguing ally for luxury brands in search of unique and sustainable packaging.
At our booth, visits have tripled compared to the previous year!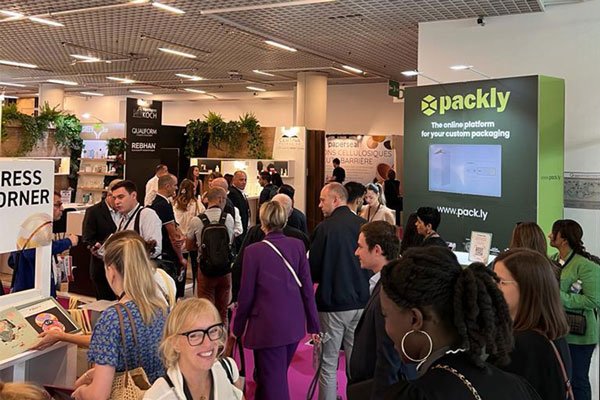 Visitors have had the opportunity to explore the power and innovation, as well as the user-friendly nature of the platform, thanks to the new features and the refreshed homepage. The feedback and accolades received serve as confirmation of our continuous improvement efforts. Visitors' reactions have been an incredible reward, as one of the many comments suggests: "You are a pleasant surprise, even more than a surprise! I have never seen a platform that is so easy to use and caters to all customer needs!"
The challenge proposed by Packly during our CEO's presentation
Packly's CEO, Giuseppe Prioriello, was invited to participate in a roundtable discussion on the environmental impact of packaging in the era of e-commerce, alongside renowned experts in the luxury sector such as Corinne Mercadie, Manager of Packaging Operational Regulatory Affairs at LVMH RECHERCHE, and Judith Fiedler, Senior Director of Global Product Development at La Prairie Switzerland.
During this discussion, crucial matters concerning the future of packaging in the world of luxury e-commerce were deliberated.
In response to the question, "How do you envision the future of packaging in the world of e-commerce in 5 years?" Giuseppe shared his vision and issued a genuine challenge.
"In my view, over the next 5 years, the luxury sector can provide a substantial push, as it has the means to research and implement new solutions. It is essential to design primary packaging with shipping in mind."
In this context, he referenced the example of Apple, stating: "Let's take Apple as an example, which has completely reimagined packaging to create cardboard-only packaging solutions. They have a dedicated department for this. They certainly have a more advanced perspective compared to others in the same sector, and that's precisely why it's a valuable paradigm shift."
The challenge that Giuseppe proposes? "I would be delighted to offer my knowledge, even by developing new algorithms, to unite forces and stand by luxury brands in addressing this critical matter."
Packly is already prepared to meet the needs of luxury brands and all those seeking personalized and eco-friendly packaging solutions.
Conclusions
Packly's participation in Luxe Pack Monaco 2023 was a great success. The challenge posed by Giuseppe represents an ambitious commitment: supporting companies in the development of innovative and sustainable paper packaging solutions. Beyond the numerical achievements, the greatest satisfaction remains in demonstrating how Packly can be the strategic partner alongside luxury brands to promote a new vision of personalized and genuinely sustainable packaging.