[vc_row][vc_column][vc_column_text]It's been 3 weeks that Packly has a new… interface. And not only that! Packly 2.0 is, in fact, full of surprises that will leave you stunned.
Creating and printing custom packagings has never been that easy.
First news? Service categories:
custom dielines and virtual 3D models with your own artwork in real time, available upon plan subscription (the Basic one is always free!)
printed products, with online quote, related custom dielines and 3D previews included and always available in My Packly area after purchase.
Once registered or logged in on Packly 2.0 for the first time, every user will join, automatically and for free, the Basic plan, consisting of 3 dieline downloads and the generation of 3 custom virtual 3D models per month.
Creation
To realise your custom products click on Create, select the article you want to customize, insert your own dimensions and define the substrate thickness you prefer. Packly will automatically generate the die-cut template and the 3D model, without graphics, with your specs.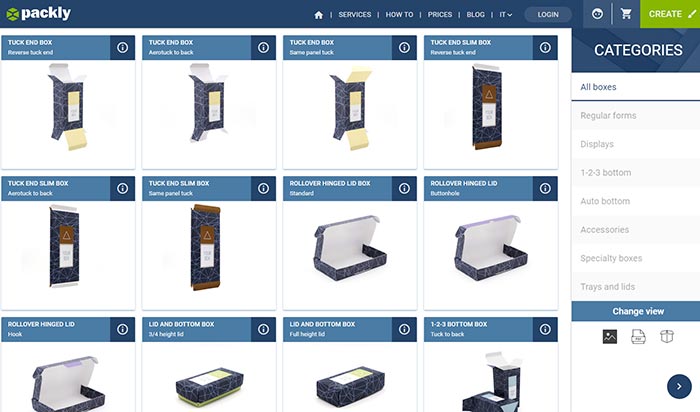 Digital services
You can download the die-cut template and view the virtual 3D model by clicking on "Digital services", without purchasing printed products. Depending on the subscription plan activated, you will get a specific number of die-cut template downloads and 3D mockup generations customized with your own artwork. Once downloaded the template, it will already be part of your monthly downloads. You can download it again and with no limits till the end of the monthly plan.


Printed products
You can directly purchase the printed – or not printed – product going on "Quote" without using digital services. Insert the packaging quantity you desire (starting from 1 box), select the manufacturing time depending on your needs and visualize, in real time, the custom quote of your order. Add the product to cart and proceed with the purchase.
Once the purchase is complete, you can download the product dieline in My Packly area. To visualize the 3D custom model and get it printed you can upload and confirm the graphics PDF file created starting from Packly's dieline in: My Packly > Your Orders, at the corresponding item. The product dieline and 3D model will be always available in your personal area after receipt of payment. The dieline could be downloaded with no limits whilst the virtual 3D model could be generated anytime you want until file confirmation.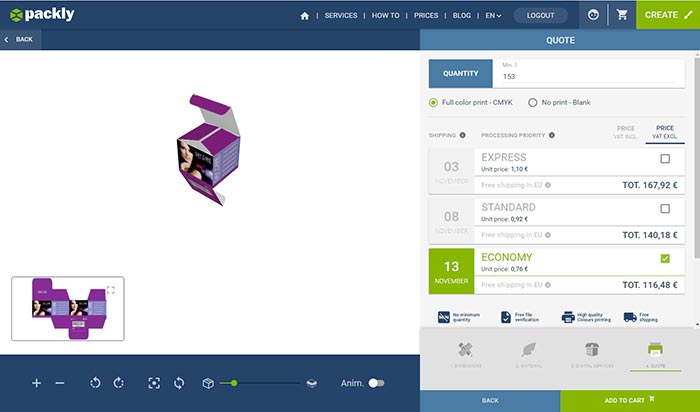 And remember: once you are satisfied with the uploaded graphic file, you will have to confirm it in order to start file check process and proceeding with the order!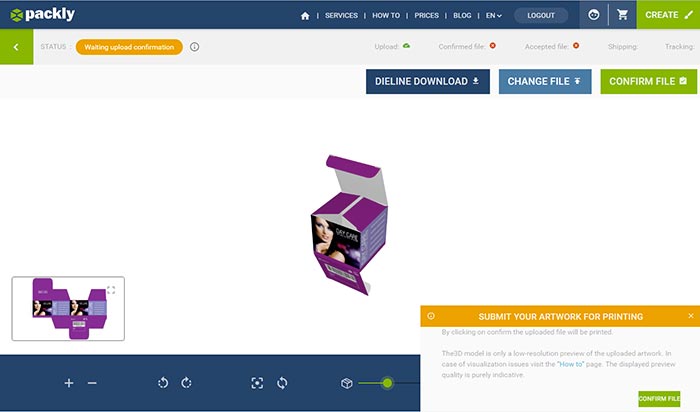 Try right now Packly's new functions and tell us what you think about. We are changing the way to make packaging!
[/vc_column_text][vc_btn title="Start now" style="flat" color="green" align="center" link="url:https%3A%2F%2Fwww.pack.ly%2F%3Futm_source%3Dblog%26utm_medium%3Dpost%26utm_content%3Dpackly2.0%26utm_campaign%3DPackly%2Bcreate%23!%2Fen%2Fdieline-boxes%2Fall||target:%20_blank|"][vc_row_inner][vc_column_inner][vc_column_text][/vc_column_text][/vc_column_inner][/vc_row_inner][/vc_column][/vc_row]